Sometimes when we go through a hard time it's hard to remember to be thankful. We get so bogged down in our trials and so self-focused (i.e. selfish) that sometimes we can't see any good in life. When we start not seeing the good in life we begin to grow bitter roots and turn farther and farther into ourselves...it's all bad. So, today is Thankful Thursday and I will choose to find 3 things to be thankful for today.
1. My amazing little boy. Riley is awesome. Is he a perfect kid? No. He has a lot of energy and doesn't always know how to control it, he has a bit of a bad attitude at times and knows what buttons to push to get me annoyed in no time flat. But he is so many good things as well. There are times that he will come and snuggle up in my lap and hug me and just be. He is smart and funny and is truly a huge part of how I am surviving everyday.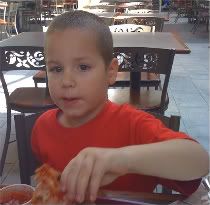 2. My shoe collection. I know it may sound silly, but those 50+ shoes make me smile. There is nothing like having a bad day and coming home and putting on some super cute high heels just because they make you feel good (yes, I strut around my house alone in yoga pants, a tank top and polka dot heels).
3. My puppy. Minion is an awesome dog. We got her last April because our previous dog, Ava, was killed by a car. We took a chance on a shelter dog that we didn't know anything about and she ended up being amazing. She wants to play when you do and is calm when you don't. She is a great bedtime snuggle partner. She can always make me smile.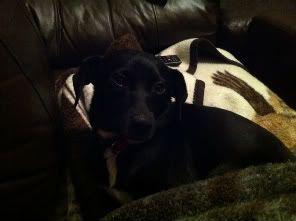 You know, I had been having a pretty bad day when I started this blog, and now I can think of a whole lot of things that I have to be thankful for. I guess once you start it's hard to stop.
In the words of James "Consider it pure joy, my brothers, when you are involved in various trials,because you know that the testing of your faith produces endurance.But you must let endurance have its full effect, so that you may be mature and complete, lacking nothing." James 1:2-4