Ah! Midweek Confessions...the time of the week where you can bare your soul and all your ridiculousness for all the world to see...it's a beautiful thing!
*Yesterday I got up, got Riley and I ready, took care of the dog, got in the car and left the driveway. I was halfway to work when I heard "umm...Mommy? This isn't the way to Roby." Yep, I forgot to take Riley to school. So, 20 miles out of my way and 20 minutes late for work and I got my day started...stupid scatterbrainedness!
*Riley has a stuffed pig, his name is Petey. I also have a stuffed pig (Pinky), Riley's dad has one, and even Minion the dog has one...apparently to be a part of the family you must have a stuffed pig, idk. Anyway, Riley has had Petey since he was a baby...well, sort of. You see, I bought Petey before Riley was born. He loved that pig, and then one day when he was around a year old we lost Petey in Target. That was one of my worst Mommy moments. I cried...a lot. So, I got on Ebay and found another Petey...2 actually...and bought them. We gave Riley the pig and he didn't know the difference. We kept the spare Petey hidden in case we ever had a lost pig emergency, but we never needed him. Petey has been through a lot with Riley, he's gone everywhere, been chewed on (a lot), slept with, hugged and loved...and it shows. I sewed up some holes in Petey the other night, something I've done many times before, and I was amazed by how much love that pig has been given. I pulled out "new Petey" (the spare Petey) that hasn't been loved on. He's bright and soft and perfectly fluffy and new. He stays in Riley's baby box and one day, eventually, he will be joined by old Petey who is smelly and ratty and looks like he's been run over by a truck. Here, see for yourself: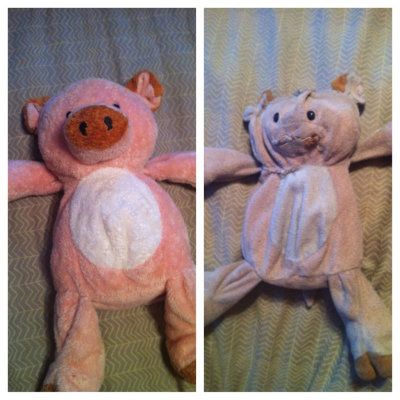 I hope that everyone has something (someone) in their life that they can cling to and love so much!
*Okay, so I'm dealing with some jealousy. I can't begin to tell you how jealous I am that little girls these days get to enjoy trendy outfits that look like this: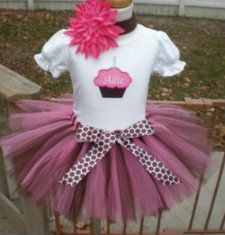 (and yes, that cupcake does say Allie, it's spelled wrong, but it will do)
I would kill to be a 4-year-old in this day and age! Do you know what was trendy when I was a kid? Outfits like these:
This is my big sister, Liz, and I at my Kindergarten and her 8th Grade graduations. Yes, I am adorable, but that's beside the point. I would much rather have been in a tutu! Ah, the 80's. Oh, if you don't hear from me for a while it's because my big sister has killed my for putting this picture up on the blog!
Okay, so it's your turn! Link up with E at
e, myself, and i
and share your Midweek Confessions with the world. You'll love it, I promise!